The Map Activity is a speedy system for exploring Google Maps and adding markers with your own photos and comments.
But what if you have limited access to the internet, or no connection at all? After seeing the incredible response by mappers to recent crises and the difficulty in using those maps on the ground, I connected with OLPC and Waveplace's Haiti deployments.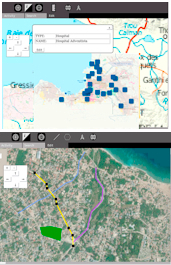 I have developed an Offline Map activity for exploring road and satellite maps, importing the disaster-response formats used by MINUSTAH and Ushahidi, and mapping your own information.
To make these maps as useful as possible, you can add photos, videos, text, lines, and shapes. With help from OLPC, the activity includes satellite photos for the Waveplace and Kakok Foundation pilot areas.
Map images and searchable places are stored in a separate "MapPack", so developers can quickly create the Offline Map activity for new countries. This offline extension of maps can help fill in the blank spots on world atlases, and unite local information with globally-available maps. Inspired by community mapping efforts such as Kenya's Map Kibera and Haiti's Quartier par Quartier, I am partnering with The Kasiisi Project to add XO-made maps to their environmental education program in Uganda.
You can get started by downloading both the activity and the sample Rwanda MapPack with maps of Kigali and Rwamagana. The larger Haiti MapPack (note: 8 MB) is available for download, too. The maps in your MapPack are also added to the Browse activity's libraries.
This release would be amiss without adding the new features to the original Map activity as well. If you have the Map activity on your XO, update to Map-8.xo so you can add lines, shapes, KML files, and MapPacks too.
Nick Doiron is a Civil Engineering major at Carnegie Mellon University. He is also Curriculum Designer for the Boston-area Digital Literacy Project