So the People's Partnership promised laptops for children in Trinidad and Tobago who recently did the Secondary Entrance Assessment (SEA). It was the first promise made in their manifesto for the first 120 days:
Every child going on to secondary school from the SEA will be provided with a laptop to begin their secondary school education.
But what do we really know about that promise? What sort of laptops will they be? How will they be used in conjunction with the education system to increase the potential of these students to do well?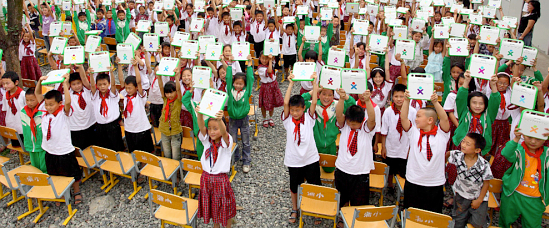 Is this was Trinidad and Tobago have in mind?
How do we know if the laptop distribution will be a 'success'? How was success defined? Was 'success' defined? It doesn't seem that way. Why is the government going to spend money on something that doesn't have a measurable result? And another question: Why is it that so many people blindly support this move without more information?
Is this OLPC?
Earlier this decade, the concept of giving laptops to children came into being - mainly through Nicholas Negroponte's One Laptop Per Child initiative. The OLPC. Oddly, it seems that this idea has roots from around the same time - when Negroponte was marketing the laptop to governments.
The idea seemed to take root within that timeframe - and perhaps it is the OLPC that the government plans to hand out to students. Apparently, those who are marketing the idea locally haven't been following the discussion. Here's one link worth reading up on - and you'll note me in the comments.
Read that, become informed (there are pro and con positions) and make up your own mind. I've been involved in the discussion since the onset of the OLPC on a variety of lists and my issues with the project not only remain the same - to some extent they have been proven.
Costs of one laptop per child
Of course, it could be some local supplier who will sell some laptops to the government. On the main computing email list of Trinidad and Tobago, the number of students was suggested to be about 17,000. I don't know if that is the actual number - it could be arbitrary - but it seems realistic and if it isn't, it still works for this demonstration.
Let us say, hypothetically, that the Government of the Republic of Trinidad and Tobago is willing to spend $200 U.S. per laptop. With 17,000 students, that translates to $3,400,000 U.S. dollars. Or, in TT dollars, roughly $21,556,000.
Now - here's the magic part. If you had $21,556,000 dollars to play with to assist education in Trinidad and Tobago... would you spend it on laptops?
Schools. Infrastructure that supports broadband internet access - not just in urbanized areas but throughout the nation. Subsidize it.
And bear in mind, this is coming from someone who believes in the use of technology. I believe early access to technology will prepare children for the future. I am not, by any stretch, a Luddite. But I'm also someone who, after having seen lots of technology thrown at problems as will be done by the current government, is wary of projects with no measurable result.
The solution is not laptops
Some people on the email list disagreed, and they believe their arguments are good. Obviously I don't - but you'd be surprised on what everyone agreed on: Education in Trinidad and Tobago has issues, and the main issues will not be solved by... you guessed it... laptops.
We won't talk about how many laptops will be stolen, if any. Or who will provide the maintenance for the machines. Or who will train the educators on how to adapt the curriculum to the new technology... or train the new educators on the new technology, period!
My opinion - a band aid solution to a developmental problem and as such is a waste of money and resources that could be used on more pressing things within education. But don't believe me.
Ask them. Ask them what they intend to accomplish with this. Unless, of course, your child gets a free laptop. If they are dumb enough to hand them out and the rest of the nation is dumb enough to let them, you're not wrong to get a laptop for your child. I'd do it.
But how about assuring teachers have laptops? Or know how to use them? Would you like a better infrastructure that includes broadband so that your children really have a shot? It really is up to you.
Personally, I like treating a disease - not the symptoms.
Taran Rampersad often writes about OLPC and originally published this post as Laptops? Really?