As a relatively new organization, One Laptop Per Child awaits in-depth longitudinal assessments of the program from our partners. Existing literature, however, produced by partners and independent organizations, provides insight into the initial stages of various OLPC projects throughout the world.
OLPC Review of External OLPC Monitoring & Evaluation Reports
Evaluations of programs on the ground have been coordinated by a host of diverse organizations with the assistance of government actors and groups. Through the variety of different mechanisms for evaluations we have gained understanding of how the XO laptops adapt to work for children in different environments; each evaluation report reflects the rich diversity of each community experience.
The methodology, timing and conduct of the evaluations have been affected by the variations in project implementation models: affirming the individualized approach in the evaluation process so as to reflect program implementation based on the country and region of deployment. Therefore, the findings from existing evaluations range from anecdotal to quantitative, when addressing the specifics of child usage, family impact, and teacher experience.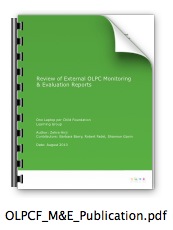 The findings are also largely positive in nature; the impact on childhood education has been considered successful overall, with the use of laptops at home and in the classroom, and we eagerly await more data on specific improvements by subject, by region, and by timing and context.
Future recommendations for OLPC based on evaluations thus far most often concern technology improvements related to battery life of the computers, hardware concerns, and facilitating software development. In many remote regions of the world where OLPC operates, limited access to electricity and Internet connectivity can directly impede achieving the full potential of learning opportunities with the XO laptop. OLPC has enabled a solar panel and hand crank to counteract energy concerns and continues to address technical issues as they are reported back from distributions.
Beyond the technical, other suggestions largely focus on improving capacity and knowledge building programs for teachers and children alike. Calls for more training, greater coordination in XO distributions, and overall preparation plans for adopting XOs to classroom use have been strongly voiced. Families and community members have also voiced a desire for more training to assist children at home and in school.
Fortunately, however, the ease of learning and education in the informal sector has been flourishing. Community feedback and the demand for more training programs is a large indicator that the laptops are contributing to the active community engagement and broader societal interest in the future of childhood education.
Monitoring and evaluation of the wide array of OLPC programs is an exciting learning opportunity for OLPC. We look forward to continued work with our partners to understand how technology creates educational change.
The abstract from Review of External OLPC Monitoring & Evaluation Reports by the OLPC Learning Group