Resumen en español al final del artículo
Powering education in remote Papua New Guinea
(Editor's note: This is second part of David Leeming's overview of how the DC Power Share us used at the OLPC project on Papua New Guinea.)
The teachers in our project schools in PNG were initially a bit sceptical about the systems. However, on a recent visit to some of the schools, where some have been using the system for well over a year, we found that the practicality and reliability of the system has largely won them over. Compared with providing AC power to a class of 40 7-year olds, the DC system has far less impact on a teacher's blood pressure and once the students are organised result in minimal addition to their workload - a key enabling factor that encourages maximum use of the technology.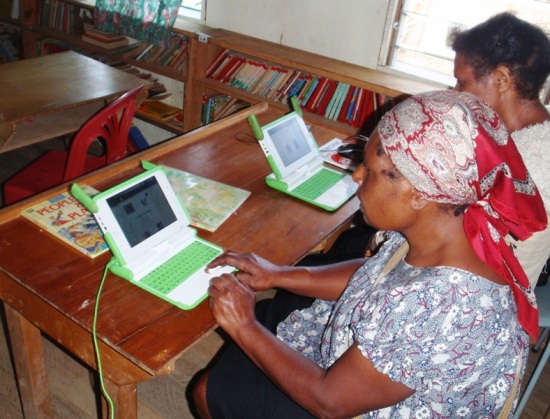 Teacher's server training at Tekin, Oksapmin, PNG
The 15W panels produced by Goldpeak have as an option additional regulators built in, to counter some voltage oscillations that were observed in some circumstances. The 60W output from four panels seems to be sufficient on a bright day to run sets of four XOs all day, leaving them with a good amount of charge. On cloudy days you can run fewer XOs per DC Share system, and we found that even on a quite gloomy day four panels could keep a single XO going. The teacher can work with one XO per 4 students and still benefit from the technology.

I don't have any hard data but the teachers who have been using this system at Jim Taylor School for 18 months told us they have managed very well. The school is situated at Kisap in the Wahgi Valley of central PNG, and has an average highlands climate - sun and showers mostly, with variations either way. Certainly, there is very little sign of any of wear and tear - none of the thin film solar panels have failed, there is no sign of de-lamination or significant wear and tear.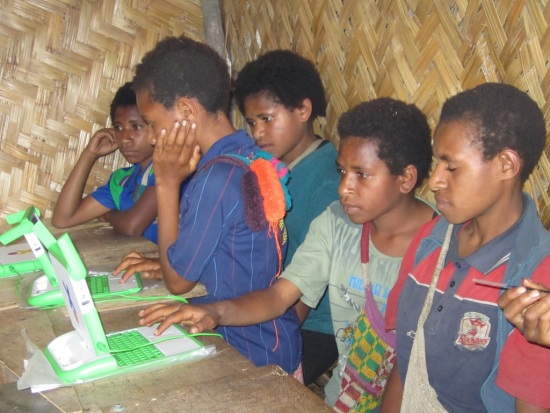 Laptops powered by DC share in use
At this school they have adopted a variation on the OLPC principle of ownership in that the schools are guardians of the students laptops, as they and their board, who represent the community, have judged that it is a high risk area and allowing children to take the laptops home every day would be unwise. Also contributing to this decision is the fact that the homes do not have power in that area.
The downside of such a policy is that the amount of time the students use the laptops is controlled - and limited - and a lot more teacher training input is required to empower them, so that they are confident to plan for and manage the technology in class, with extra free time for students to use the laptops out of class. In response to this issue, the partners of the PNG SDP programme have been talking with OLPC Australia about the possibility to extend their XO-Certified distance training scheme to teacher at the PNG schools.

Another simple ploy is to build storage space in each classroom, so that there is as little extra workload for teachers in setting up and managing the power supply technology. Several of the PNG schools have built lockable storage cabinets, and organise the students to set the systems up in the mornings and replace them at the end of the day. Simple strategies like this can make a lot of difference.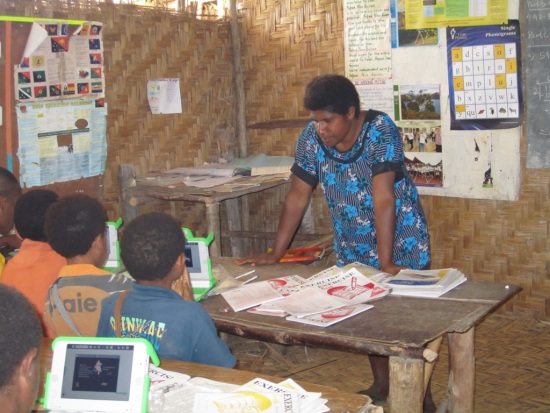 Server resources being accessed in a class activity
The servers at the schools, which all have campus-wide wireless networks and XS school servers loaded with open educational resources (and increasingly) some curriculum resources from PNG and from regional organisations. These are powered by integrated kits by Sundaya, an Indonesian manufacturer. They are designed for rural lighting and the integrated design with battery, regulator and DC-only distribution with proprietary connectors makes it difficult to misuse them as described above. We modified them to power the server machines, which are fanless mini-PCs consuming less than 16W of power, and access points with PoE. These are also bearing up very well - at Kisap the server and wireless infrastructure operated 18 months with no servicing, continuously.
The PNG schools are currently using the XO-1. The systems should perform even better with the later versions, especially the XO 3.0 with their reduced power consumption.
David Leeming is an ICTD activist from the Solomon Islands
---
Resumen en español: Esta es la segunda parte del artículo de David Leeming sobre el uso del DC Share en el proyecto de OLPC en Papúa Nueva Guinea. Explica como los maestros y alumnos estan usando el sistema y da una impresión más amplia del proyecto allí.