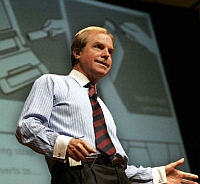 Nicholas Negroponte of OLPC
While we geeks all too-easily get wrapped up techno-lusting after the laptop part of One Laptop Per Child, every so often Nicholas Negroponte reminds us:
This project is about learning, not about laptops. And that is perhaps the hardest thing I have when I travel around the world bragging because all too long people think that this organization is selling laptops and we are indeed distributing a huge number of laptops, but the purpose is education.
Yet, if the goal is education, might there be more effective alternatives for the
$30 Billion dollars OLPC
wants the world to spend on computers for children? Technological alternatives, even.
Technologies that T. A. Abinandanan reminds us about in his interview on OLPC for NDTV. There, T. A. Abinandanan used his 15 nanoseconds of fame to remind us of the educational technology he seeks for every Indian child:
There is a technology appropriate for educating young children. It's called school. Not just any old school, but a school with other supporting technologies such as a classroom, a teacher, a blackboard, and yes, a toilet. An unbelievably large fraction of our children don't have access to these basic and essential technologies. We must concentrate on reaching these essential technologies to our children. This should be our priority.

We must not forget that these basic things are like bread. And we are absolutely right to say 'no' when someone comes along and says, "let them eat cake", ... and proceeds to set up a cake shop!
And now why would T. A. Abinandanan be so negative? If he read
Seymour Papert's speech on USINFO
, he would know why the OLPC team is selling Children Machine XO's to the developing world:
People ask why, why is it that you want to give computers to children in many places where they hardly even have books.

The answer is, that you're asking the wrong question. If you think about people doing knowledge work, knowledge work means anything to do with writing, or numbers, or information, all the people in the world except children have opted to use the computer as the natural medium.

They have found this is the efficient way to do knowledge work. So, if we want to bring the children of the world into the knowledge economy, knowledge society, the computer is the only means of doing that.
But what if you goal is not making new knowledge economy workers but simply providing a basic education to your populace? Or as T. A. Abinandanan explains in his questions about
laptops in schools
:
My fundamental complaint against the OLPC in the Indian context remains valid. Our government spends about Rs. 4,000 to 5,000 per child per year. This expenditure is roughly equivalent to seven tenths of an OLPC laptop!

In other words, the cost of a million of these little monsters is the same as educating 1.38 million kids a year. A country which has roughly 40 % of its kids out of its school system should not be wasting its resources on a fancy gadget of questionable educational value.
Whoa! Wait till T. A. Abinandanan finds out OLPC XO's are at least
$208 dollars per laptop
and Nicholas Negroponte hopes for
$150 Billion
in OLPC start-up funding.