About five years ago, Todd Oppenheimer published an extensive critique of the use of computers in North American schools. When I opted to research technology-in-education for a philosophy of education course, his book appeared to be an excellent resource. Having brought the book home, though, I became apprehensive.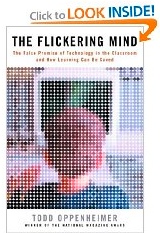 Would I be able to read the book without making comparisons with OLPC? Had technology (and schools) changed enough in five years that the observations in the book were no longer valid? Would I really enjoy reading a 400-page book subtitled "saving our children from the false promise of computers?"
I needn't have worried. The Flickering Mind: Saving Education from the False Promise of Technology is extremely readable and, despite the subtitle, not polemical. But spontaneous OLPC comparisons were inevitable.
Digging through piles of standardized test scores, Oppenheimer unearths a surprising truth: computerized classrooms do not lead to improvement in State testing. For example, he cites a study by the San Jose Mercury News in which they examined test scores from 227 schools in California. Oppenheimer quotes the conclusion of the study:
In general, the analysis showed no strong link between the presence of technology - or the use of technology in teaching - and superior achievement"
Progressive educators might argue that simply looking at standardized test scores does not reveal any truth about actual improvements in education, that a more concrete approach is required. Oppenheimer takes this into account. The majority of his book is filled with extensive qualitative case studies. From schools in urban New York, to rural West Virginia, to suburban California, Oppenheimer observes the same patterns.
He found that when computers are used in classrooms, students were distracted, sending emails to each other instead of listening to the teacher, covertly playing violent video games, and generally staying off-task. Computers also became the attractive method of research in History classes, even though the information available via the Internet was poor.
Indeed, computer-only research leads students to become dependent on authority for knowledge. Using the Internet as an information source they do not develop the same sort of critical evaluation of sources essential for historical research. Worse, Internet research makes plagiarism easy and appealing: one can simply copy an web page, run it through a computerized thesaurus, and hand it in as original work.
The most compelling part of Oppenheimer's argument is his disapproval of the trendy nature of high technology in schools. He notes that Thomas Edison had predicted that the motion picture would obsolete textbooks and lead to education that was 100% efficient.
The motion picture trend was then replaced (respectively) by radio, then television, then videodisk, then computer, then Internet. Each of these trends cost the education system large amounts of money, attracted enthusiasm for a limited time, and ultimately failed to save schools. Furthermore, they were all forced upon schools by politicians, who were influenced by business.
For example, in 1982, Apple Computer donated a large number of computers to schools in California. Bud Colligan, and a former education specialist for Apple Computer said that "Apple always knew that its school initiative to seed its market. As children became devoted to a brand, parents would too". IBM's Bob Wallace recognised a similar opportunity, saying "As people are exposed to personal computers in the schools, this will become an excellent way to interest folks in home computers..." Corporate influence in education extended to the highest levels of government.
The US Federal Government's KickStart initiative spent billions of dollars to bring computers into classrooms across the country. Two thirds of the taskforce that recommended the program worked for high-tech or entertainment companies. Despite these revelations, Oppenheimer ultimately decides the value of computers in education in terms of tradeoffs. Every priority necessitates an anti-priority. Across the United States, the money to buy computers was obtained by cancelling visual arts, theatre, and dance programs in schools, reducing teaching staff, and deprecating libraries.
Oppenheimer's criticisms of Seymour Papert are less convincing. He portrays Papert as a false prophet who constantly predicts that technological innovation will magically improve education. However, this bears little resemblance to Paper's actual argument.
In the same way that a jigsaw cannot build a playground set on its own, neither can computers change education without the proper software and - more importantly - the right teacher with the right theory of knowledge. The sort of computer assignments that Oppenheimer criticises - electronic math quizzes and internet research - are sorts of sorts of computer use that Papert was opposed to.
Today, computers are being used to prepare students for standardized tests, while boxes of LOGO software lie abandoned in the dusty closets of computer labs. Some of the book's descriptions of computer software are particularly puzzling. Oppenheimer describes the the 'FORWARD 30 RIGHT 90' paradigm in LOGO as if it were introduced as a dumbing-down measure in newer versions of the software. He also describes Kid Pix (one of my favourite computer programs of all time) as "essentially a children's version of PowerPoint."
Of particular interest to OLPC fans would be the chapters "Fooling the Poor with Computers", which deals with the concepts of computers as a catalyst for improved education for the impoverished, and "Starting from Scratch with a Computer on Every Desk", which investigates a school with a curriculum re-designed to be computer-oriented from the start.
Oppenheimer's harshest criticism, however, is not targeted at technotopian educationalists, but at computer and software companies. He devotes an entire chapter to a company called Renaissance Learning, which sells thousand-dollar computer programs that quiz students on the books they have read.
What can OLPC learn from this book? As I read each chapter, the a disturbing message emerged: Nobody asked the teachers. Technology integration, contrary to the hopes of Seyomour Papert, was a movement imposed by Government (and often at the behest of the high-tech industry). Teachers had no choice in the matter. The result was wasted time and resources on implementing programs that undermined the needs of teachers, and perhaps students as well.
Considering that OLPC will only make million-dollar deals with governments, rather than deal directly with schools, I wonder if they might might benefit from Oppenheimer's precautionary tale.
Thanks to Gabriel Hurley for this book review. Have you read an OLPC-related book too? Then email your thoughts today!