Yep, it's definitely a busy weekend for the OLPC community. Not only is GrassCon taking place on Saturday morning but OLPC San Francisco will also have their July meetup on the same day.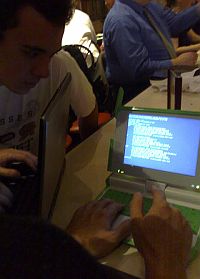 Meetups are the best!
I'm very happy to be able to join them and I will also give a short overview of the current state of things at OLPC and especially about what's happening in the various grassroots communities these days. But what I'm most looking forward to are the things listed under other activities:
Build a mesh network, share activities, generate crazy ideas. We also have a schoolserver configured and running complete with active antenna. This allows you to mesh with the server (or your nearest XO) and route to the Internet! We will also look at some low-powered schoolserver platforms and solar power for the XO. If you need to upgrade your XO's software build, we can do that at the meeting as well. emphasis mine)
The official schedule for the meeting is:
10am to 11am - Setup and meet and greet/wake up. Campus cafes may closed, so bring your own coffee. Nearest cafe is at Stonestown Borders Book store.
11am to 12:00 - Christoph Derndorfer's Talk.
12:00 to 2:00pm - Breakout groups.
And here are the other details:
OLPC-SF Meeting
Saturday, July 19
10:00am - 2:00pm
Business Bldg. 202, SF State main campus [map]
1600 Holloway Ave.
San Francisco, CA 94132
I'm very much looking forward to the meeting and hope to see some of our Bay area readers there!