Dailymotion announced what I consider to be an awesome contest this week: Until December 15 you can submit a 30 or 60 second promotional video for OLPC's Give 1 Get 1 marketing campaign. The prize for the best spot is quite impressive: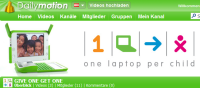 30/60 seconds of fame anyone?
Submit your Give One Get One commercial for a chance to win a national TV spot! This an amazing opportunity for you to "give back" during the holiday season and have the chance for even broader exposure of your creative work.
While unfortunately only US residents are eligible for prize consideration, I still think this is a great idea to motivate people to produce some cool videos. Moreover Dailymotion specifically encourages young creators to participate:
You can be as creative as you want! But remember, the commercial should be kid friendly. In fact, kids are encouraged to participate, along with the guidance and support of a parent or legal guardian. For prize consideration, all submissions must be 100% original, please do not use copyrighted images or music.
If this sounds interesting to you then head over to this Dailymotion page and definitely let us know (via a comment below or the forums) in case you actually submit a video.
---
Stay on top of what's happening with Give 1 Get 1: subscribe to OLPC News via RSS Feed, Emails or Twitter.
---