While talking with some Peace Corps Volunteers in Mongolia about all of the funny and interesting things we've done, we started to joke, "What if we earned merit badges like the Boy Scouts?" Like the time you took a 40 hour bus ride in the middle of January.
Or when you helped slaughter a horse. And of course, living in a felt yurt called a ger in arctic temperatures. These are the kinds of things that are special about Peace Corps service, and serving in Mongolia in particular. People thought the idea was great, so our two founders Travis and Ridge gathered some friends together and decided to make it a reality.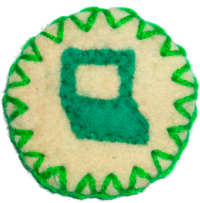 Peace Corps Merit Badges are a fun way for Volunteers to commemorate their service, support small business, and share their experiences with others. A Volunteer's collection of badges is a tangible reminder of their unique experiences while serving and the badges can be sewn onto backpacks, satchels, or sashes and felt wall hangings in the shape of Mongolia (both of which we will be offering soon).
When people see them, they are guaranteed to start some great conversations. Our wide array of badges are handmade by our friends who are embroiderers in the eastern steppe of Mongolia and they can be shipped around the world. PCMB is run by Volunteers, and all profits are donated to our artisans and local charities.
We do not represent any official positions of the Peace Corps, but we fully support its mission to work toward world peace and friendship between the United States and countries around the world.
Our newest merit badge is the One Laptop per Child badge. OLPC has a growing presence in Mongolia - to date 10,000 laptops have been sent here and Mongolia was the first country to benefit from the G1G1 program. OLPC is a fantastic education program that both children and Peace Corps Volunteers love.
Many PCVs worked with OLPC when it first started in Mongolia and have continued to help encourage the project in this rapidly developing country. The merit badge features the OLPC icon and is hand-sewn on Mongolian felt, the same material that has lined the inside of gers for generations and helps keep children's XO laptops warm when they are not at home (even though, as you know, the laptops can withstand the cold no problem).
One of our fellow Volunteers, Ryan, has worked a lot with OLPC and incorporates XO laptops into his English lessons. We asked Ryan to share with us his experience with OLPC, here is what he had to say: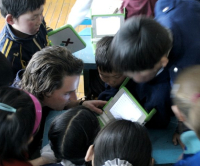 Earning his PC OLPC badge
"It may seem incongruous in a town without running water to see close to one hundred and fifty children toting laptops on their way to school, especially when those laptops are flamboyantly green and those children can barely peek out from layers of sweaters, jackets, hats and mittens that are meant to fend off the ensuing Mongolian winter. One Latop per Child chose the small town of Hatgal as a project site, however, so the scene has become common enough.

Unlike many schools in rural Mongolia, the secondary school that I work at has a fairly high number of computers that older students can use as part of the growing computer education program. Yet only through the efforts of OLPC can younger students begin to explore the world of computing. Even when the singular laptops prove difficult to incorporate into an established curriculum, 4th and 5th graders are given the opportunity to independently explore a range of programs that can be both fun and challenging.

So when they finally get into school and can take off their hats and scarves, you see that they're smiling."
We hope you enjoy the OLPC merit badge and share it with your friends and family. Peace Corps Merit Badges is all about helping our host country, sharing experiences and having fun and we would love for you to be a part of our project. Please visit our website, www.peacecorpsmeritbadges.com, to learn more and place an order for yourself or a friend anytime!
Patrick Olsen is Director of Communications for Peace Corps Merit Badges