As I wrote some time back in An Internet Bandwidth Bonanza Coming to Africa, lots of fiber-optic cables are arriving in Africa, but it turns out that in at least one case, Somali pirates have interfered.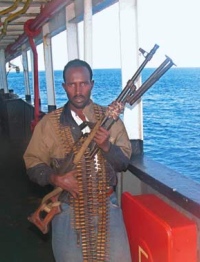 Trade guns for laptops?
The good news is that prices are continuing to fall even before many of these cables are connected. We all know how important this trend is to the success of OLPC projects in Africa, and we can imagine many of the effects on banking, trade, government, and so on. It isn't just the undersea cables, either. Terrestrial country-to-country and in-country link projects have been underway for a year or more in several countries, notably Rwanda, and many more are springing up.
Not that we have arrived at the Era of Cheap Internet in Africa yet. Prices are still unconscionable by US and European standards. Russell Southwood reports:
Current C-band prices at volume in Uganda vary from US$5,000-5,400. Infocom's CEO Haerdtle believes that he will be able to deliver US$700 per mbps and less at volume.
Southwood's Balancing Act offers a rather detailed analysis of the state of these markets in its published report, African Telecoms and Internet Markets Part 3: East Africa.
However, there was a serious hitch in this process recently. Somali pirates have forced a one-month delay in the landing of a new fiber optic cable in Mombasa, Kenya. (SEACOM delays cable plans because of Somali pirates) It isn't that the pirates attacked the cable-laying ship. The delay was to arrange sufficient security for the ship to go through the zone of piracy without incident. This has pushed back the lighting-up date for the cable by a month as well, from June 23 to July 27.
I have a recurring fantasy about Somalia, in which we somehow install a modern communications system and give XO laptops to all the children, and as a result the country starts getting itself back together and eventually rejoins the world community. Everybody knows that we can't, of course. No government, no real private economy, just subsistence agriculture, warlordism, and piracy.
There is just this little problem about what everybody knows, when it turns out not to be the case. Not that Somalia's claimed Internet user base of 98,000 in 2007 (according to Internetworldstats.com) was anything to crow about, but Somalia had the highest Internet growth rate on the continent, and at 1% penetration, it is actually ahead of some other countries.
Most of those other countries are commonly written off as economic, social, and political basket cases, too, of course. It says something if you are worse off in any respect than Somalia, but there they are. There are still hardly any Web sites based in Somalia, and its country code, .so, is not in use.
What is really surprising is that Somalia apparently has good mobile phone service, with some of the lowest rates on the continent. The BBC reported several years ago on fierce competition among three phone companies putting up numerous mobile phone towers in Mogadishu and elsewhere. Reportedly, "crystal-clear service, including international long distance, [costs] about $10 a month." Installation time for a land-line is said to be just three days, while in neighboring Kenya waiting lists are many years long.
Well, if phone towers are not being cut down to be sold as scrap, if people are not being mugged for their cell phones, if the Internet in Somalia is growing that rapidly, is it possible that I am not simply fantasizing? Not that the government can buy 4 million XOs any time soon for all of the children of the country. OK, but can we start with a few thousand? A few hundred? All of the existing schools in Somalia are private, including significant numbers of Christian and Islamic schools. Who are the NGOs operating international schools? Can we talk with them? Can we help with fund-raising?
Ah, yes, fund-raising. You can raise billions for victims of one-time natural and man-made disasters, but where is the money for ending poverty? I guess that's the fantasy.