Resumen en español al final del artículo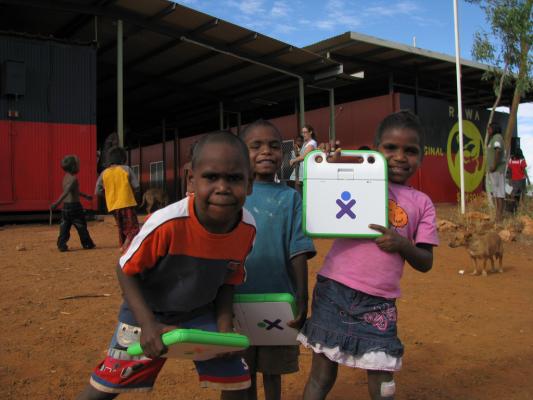 Earlier today OLPC Australia announced that it will receive $11 million from the Australian government which will allow the organization to expand its program by 50,000 XOs. Per the government's budget Web site:
The Australian Government is providing over $11 million to support the One Laptop Per Child (OLPC) Program which will deliver over 50,000 custom built laptops to primary students in regional and remote Australia as part of a 12 month pilot program. The OLPC Australia Organisation (OLPC Australia) aims to support the learning opportunities of indigenous children, particularly those in remote Australia, by providing primary school aged children with a connected XO laptop as part of a sustainable training and support program. Participating schools will also receive information and communications technology (ICT) coordinator professional development, local repair kits, and access to helpdesk and online support. The Government will also continue its support of OLPC Australia through its listing as a deductible gift recipient for taxation purposes to 2015-16.
We reached out to Rangan Srikhanta (OLPC Australia's CEO) for a first reaction and he said:
This is a momentos day for OLPC Australia and what started as a dream is now a reality. This significant investment from the Australian government is further vindication that the XO can help children anywhere. We look forward to leveraging the 50,000 laptops committed by the Australian government to seek further corporate and school commitment to the program. The 50,000 XOs will be delivered via OLPC Australia's One Education initiative.
We will provide you with more information about their One Education initiative and its progress over the coming weeks and months. But for now all I can say is congratulations to the OLPC Australia team for this well deserved and important step forward!
---
Resumen en español: OLPC Australia anunció hoy que recibirá 11 millones de dólares del gobierno australiano, que permitirá a la organización ampliar su programa con 50.000 XO.