Contribute to OLPC News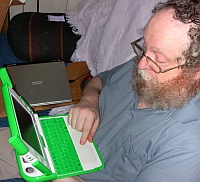 Ed Cherlin: an OLPC News writer
Does One Laptop Per Child excite you? Do you want to share your passion with the five thousand daily readers of OLPC News? Highlight your opinions on OLPC deployment progress? Or announce your own local XO user group?
Then don't be shy. Don't delay. Email us a Guest Post today!
As you express your learned opinions and ideas blog-style, in on-topic posts of 200-400 words, complete with quotes, links, and photos, you'll be joining a distinguished group of talented writers, commenters and contributors that span the globe.
OLPC News authors also span a spectrum of thought, from fanboy to critic, striving to keep OLPC News your independent source for news, information, commentary, and discussion of the One Laptop Per Child endeavor.