Both One Laptop Per Child and Intel are now moving into million-unit sales numbers for their respective 4P Computers, the XO laptop and the Classmate PC.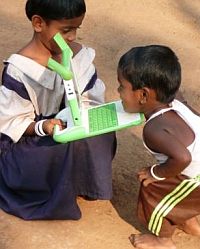 XO power to the little people!
Last week, the Economic Times reported that OLPC is looking to sell 1 million XO laptops in India for $300 each. But this would not be to the Indian government, which alternates between calling the XO "pedagogically suspect" and attempting its own "$10 laptop". OLPC is looking to India's wealthily elite to fund educational empowerment through an Indian Give Many + Give One Get One:
"The laptops will only be available for charitable donations to primary schools. But, if an individual wants to buy the laptop for personal or corporate use, he/she may have to shell about $400 for two laptops.

One laptop will go towards a school of his choice, while the other can be used by the buyer for personal use. We also plan to print the brand of the company on laptops provided it gets a large order," says OLPC India advisor Hema Virani.
Interestingly, the $300 price tag includes deployment and maintenance. I really wonder what OLPC means by "deployment" or "maintenance" when Indian schools typically have an
approximate $2,500 per computer TCO
.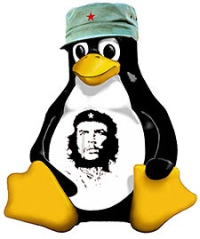 On the Intel front this week, Venezuelan President Hugo Chavez announced he is buying a million Portuguese Classmate PC's for the children of his country. While I can see his desire to connect with Portugal, and political benefits of the whole package he negotiated, I am surprised at his choice.
I would think a revolutionary like himself would want to support revolutions in technology too. Didn't he promise his own "Bolivarian Computer" a year ago? At least these "Magellan" classmates will come with Bolivarian Linux preinstalled.
Regardless of why, I have a nagging question: What was the cost? In Portugal they are 285 Euros while for Venezuela, the IHT only reports:
The blue-and-white laptops - based on Intel Corp.'s Classmate PC design - are manufactured under license in Portugal and are primarily aimed at schoolchildren in developing countries... The computers are said to cost several hundred dollars each, though officials have declined to give an exact figure.
.